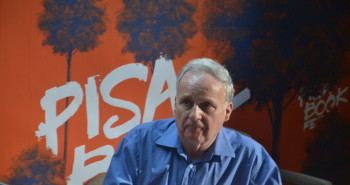 Joseph Farrell è professore emerito di Italianistica presso la Strathclyde University di Glasgow. Nel 2005 gli è stato conferito il titolo di Cavaliere della Repubblica Italiana per i servizi resi alla promozione della cultura italiana all'estero. È autore di numerosi studi dedicati alla cultura siciliana e alla storia del teatro in Italia, tra i quali Dario Fo and Franca Rame: Harlequins of the Revolution (Methuen, 2002) e History of Italian Theatre (Cambridge University Press, 2006). Scrive articoli e recensioni per la Scottish Review of Books, The Scotsman, The Herald e The Times Literary Supplement. Nel 2013 vince il Premio Flaiano di Italianistica. Ha pubblicato il libro-intervista con Dacia Maraini La mia vita, le mie battaglie. Il suo ultimo libro Stevenson in Samoa è candidato al prestigioso Saltire Society Prize, il premio letterario più importante in Scozia. 

L'intero programma Muriel Spark 100 è a cura di Joseph Farrell.
Appuntamenti:
Venerdì ore 16:00 Sala Pacinotti
Muriel Spark 100. The Prime of Scottish Writing. In her centenary year, Muriel Spark is being celebrated across the world for the brilliance of her writing and her place in Scottish literary heritage. Join James Campbell, Rosemary Goring, Joseph Farrell and Luca Murphy as they discuss the life and work of Dame Muriel, one of the most excellent writers of the 20th century. The conversation is held in English.
 Sabato ore 12:00 Sala Fermi
Joseph Farrell: Stevenson in Samoa. An account of Stevenson's last four years in Samoa. The Navigator Islands had fascinated Stevenson for years, but when he went to live there the realities of life changed him forever. #LEGGEREASCUOLA
Sabato ore 17:00 Sala Fermi
Muriel Spark 100. Between Tuscany and Scotland. 2018 marks the centenary of the birth of the iconic Scottish writer who spent her last years in Tuscany. Join Joseph Farrell as he discusses Alan Taylor's fond and funny memoir of his friendship with Muriel Spark, Appointment in Arezzo. The conversation is held in English.